How to Start an Online Gambling Business?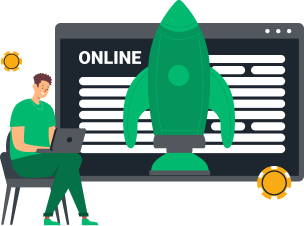 As an entrepreneur or business owner, you're probably always on the lookout for new business opportunities. And this is something that the online gambling industry can provide you with. But what do you need to know before you dive in and start an online gambling business?
Worry not, we're here to help! Startups, mergers, and expansions are becoming increasingly popular in the online gambling market. Over time, the industry has shown consistent development and has been fast to adopt new technology, keeping things profitable for all market participants. Does it sound exciting to you? Here are a few tips to simplify the process while also giving you the push you need to get started. So how do you start an online casino?
Online Gambling Market Size
Why should you start now? The answer is simple – the online gambling industry is booming and will continue to do so for many years to come. It was estimated at around $58.2 billion in 2021 and is predicted to reach roughly $145.6 billion by 2030, at a CAGR of 12% between 2022 and 2030.
Rapid urbanization, combined with increased Internet coverage throughout the world, is one of the primary drivers causing market expansion. Moreover, the legalization and cultural acceptance of online betting in several developed nations are boosting industry growth even further. Online sports organizations are also forming partnerships with big football and racing teams, which helps them attract new customers.
Various technology breakthroughs, such as the development of virtual reality (VR) and blockchain technologies, are also stimulating growth. These solutions help to ensure the transparency of gaming operations while also providing the player with an immersive experience. The sector is expected to grow even more because of things like rising consumer spending power and the rise of bitcoin gaming.
Along with that, the COVID-19 epidemic accelerated online gambling demand since people spent most of their time indoors and chose online gaming for entertainment. Furthermore, the availability of safe digital payment solutions is encouraging the use of online gambling applications. All this is encouraging news for investors considering launching their website. You can become one of them and enjoy all the benefits of entering the online gambling niche.
6 Steps to Start an Online Casino Business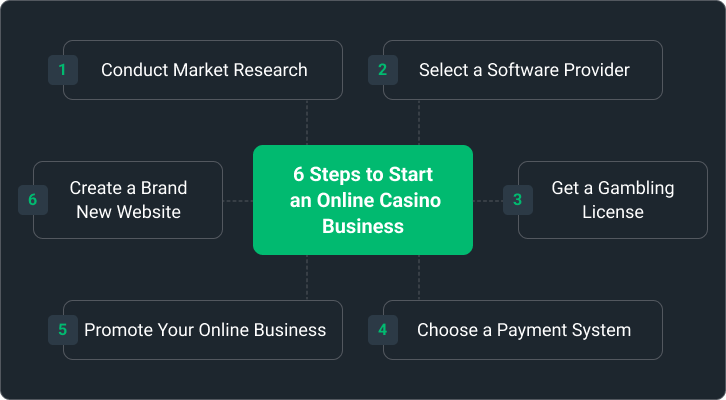 Online gambling provides a plethora of prospects for modern entrepreneurs who are unstoppable in their efforts to deliver exceptional gambling services, drive their companies to ultimate success, and surpass all competitors. Let us shed some light on the gambling industry today and how to step into it on the right foot.
Conduct Market Research
It is critical to first investigate how to establish a casino and create a complete business strategy. Unlike other sectors, iGaming has a plethora of rules, restrictions, and obligations. Each country has its own set of rules that regulate the sector. Gamblers also have different preferences that vary from one market to another. To succeed, you'll need to perform extensive market research and analysis, implement a competent and well-balanced marketing plan, and maintain constant growth.
Once you are done with in-depth market research, you will be able to understand where it is best to start an online casino business. This decision will have an impact on a variety of other decisions, including the gambling licenses you'll need to operate in the region, the types of games to offer, the payment methods to choose from, and so on. For example, if you aim to market your casino to gamblers from the United Kingdom, you'll need to have a UKGC (United Kingdom Gambling Commission) license and the GamStop problem gambling prevention program in place. However, if you want to establish an independent casino that accepts players from all over the world, you may do so with a regular Curacao eGaming License. Therefore, you should never skip market research on your journey.
Select a Software Provider
It is critical to choose trustworthy gambling software. But be sure that this step will require extensive market research to guarantee you have the right games for your target demographic. Based on your requirements, budget, and needs, you should generally aim to sign an agreement with a software provider that offers the following features in a white-label solution:
A scalable gaming management system;
Payment options that are diverse and accept multiple currencies;
Extensive coverage of betting markets;
An extensive portfolio of top international gambling games;
User-friendly and customizable front-end;
High-quality back-end technologies;
Single back-office management system;
Payments gateway module;
Quality certificates for their gambling products (TST, eCOGRA, etc.);
Customer support.
Apart from that, you should also ensure that you have a proper business agreement with the software provider you decide to go with, which includes price and guarantee conditions. Check reviews and security features, as well as individual cooperation terms, certifications, and technical support. All these details should be included in the business agreement.
Unfortunately, it is all too easy to lose sight of company objectives, especially during the pre-opening period when you are still debating what is and is not significant about your own online casino business. But this doesn't mean that you should turn a blind eye to the details. Take your time to consider different options and choose a software provider that offers quality gambling content and beneficial agreement terms for you.
Get a Gambling License
The first thing to look at is regulatory matters, since if you don't have your gambling licenses in place, you won't get very far with your online offer. The project is determined by the specifications of the market you aim to enter. Depending on your chosen jurisdiction, you would need a distinct license, gaming content, payment options, and marketing approach. Therefore, your target market should be well-researched and decided on in the early stages of the project.
Once you determine your operation area, you'll get an idea of what licenses you need to apply for in order to provide services to customers in a certain region. Be  aware that it is a lengthy process. For example, getting a top-tier license from the UK Gambling Commission or the Malta Gaming Authority will take a lt of time and effort to prepare the necessary documentation and have your application validated.
The following are the primary prerequisites for the gambling license application process that explain how to get a gambling license:
Application. Complete the licensing commission's gaming license application form and ensure that all information is in place and correct;
Business strategy. Create a detailed business strategy for the online casino using the proper structure/format and submit it together with the licensing application;
Completion of prerequisites. Examine the license criteria and obligations to ensure that your company and online casino software satisfy them all;
Operational requirements. Establish all casino procedures and activities, such as account registration, transaction processing, promotions, and games;
Compliance review. Analyze your casino once more to verify that you fulfill all compliance criteria pending commission assessment.
At the moment, the gaming sector is dominated by the following legislative frameworks:
States regulating online gambling within their territories;
States regulating and imposing monopolies;
States that prohibit betting activities within their borders;
States with a lack of regulations on gambling activities.
Despite the fact that prominent gambling jurisdictions like Curacao, Malta, Montenegro, the Isle of Man, and Gibraltar provide licenses to a large number of jurisdictions, local laws ultimately win and are enforced above any international law. Therefore, it should be considered.
Choose a Payment System
When you start an online gaming business, you must get into an arrangement with a payment system provider so that you and your players can conduct transactions swiftly and easily. The more payment solutions your casino will work with, the better. It is recommended that you provide gamblers with varied banking options for their convenience.
At the same time, you must consider the growing need for payment providers who understand and adapt their services to unique regional market situations. To make things easier, you may select a payment system vendor that can provide the following:
Payment processing;
Integration with all major e-merchants;
Multi-currency support;
Fraud detection;
Advanced risk management.
Keeping an eye on your target market and selecting the most user-friendly payment options can improve the entire gaming experience and provide additional advantages to your business. Therefore, the need for multiple payment methods that deliver a secure environment for processing is a vital element for any successful gambling website. So start with the traditional payment methods that involve credit cards and vouchers and work your way up to the final integration of e-wallets and cryptocurrencies.
Create a Brand New Website
Having defined all the legal aspects, it's time to get down to business and develop a website for your online casino. Make sure that you have plenty of resources and time since the look and feel of your website are critical. Modern gamblers are spoiled. They will never register on a site with poor navigation, lots of ads on the front page, or games not compatible with mobile devices. For you to stay on the safe side, here are some of the most important things to remember.
Make Sure Your Casino Is Mobile-Friendly
Every year, the number of gamblers playing casino games on their mobile devices increases. In certain countries, the proportion of players who use their smartphones and tablets to play casino games or wager on sportsbook websites is higher than the proportion of laptop or PC gamers. This implies that developing a mobile-friendly website that works well on both Android and iOS should be a key priority for any iGaming company.
Increase Uptime
When it comes to online gambling, it is essential to ensure that your website operates with no lags or downtime. Your pages need to load as quickly as possible and your website's uptime should be close to 99.9%.
Ensure third-party software compatibility
Third-party software is used in all forms of remote gambling, including games, payment systems, analytical tools, security software, odds feeds, and so on. One of your main concerns is making the website compatible with all of the games and software that are required for its successful operation.
Make sure that affiliate and agent systems are pre-built
When you're in the iGaming industry, having your own affiliate network is no longer an option; it's a necessity. That is why it is crucial to have all the necessary promotional resources available.
Go for a clutter-free design
Do not overburden your site with superfluous visuals or items that may slow it down and negatively impact the overall game experience. According to studies, loading speed is vital for gamers, who may quit if the website pages take too long to load. Avoid sophisticated and resource-intensive images such as movies, integrated graphics, or multiple visuals.
Creating an original gaming website from the ground up is a time-consuming and costly approach. Luckily, there are many different solutions to speed up the process. Thus, you can hire a team of developers, buy a ready-made website, use a site builder, or go for templates.
Promote Your Online Business
The level of customer satisfaction directly impacts your prosperity and profits. Identifying a target audience is, thus, a vital step in building a company plan. You must carefully plan your marketing initiatives in order to increase your customer reach. Most importantly, you need to retain them for as long as possible. With that in mind, here are some tips that will help you complete the mission:
Create a KYC (know your customer) policy. Investigate the user base, identify your potential customers, discover their preferences and interests, and gather other vital data for targeting (location, age, workplace, social media activities, etc.). Create a marketing strategy to reach out to your consumers based on this information. You can then run an ad campaign through a variety of channels, including radio, social media, television, paid ads, and many more. You can even hire a professional agency to do Casino SEO for you, which in turn will prove helpful in creating organic traffic to the site.
Deliver exclusive content. Offer your players unique products so that they cannot help but get involved in your games;
Develop a flexible bonus policy. Reward your audience with free bonuses like free spins, match bonuses, cashback, sign-up and reload bonuses, loyalty rewards, and so on. It's an excellent strategy to keep your current gamers engaged.
Launch loyalty programs. These programs should be designed to reward frequent players with discounts and other special offers in order to keep them coming back to your casino. This strategy works well and helps to retain a large number of customers.
Profit from affiliate marketing. Having a strong affiliate program in place can assist you in increasing user engagement and traffic to your website. You may also approach influencers and gambling bloggers and ask them to review your service or create video-streaming content while gambling on your site. Be sure – they will, in turn, bring thousands of new customers to your site.
Utilize numerous marketing channels. By enabling several marketing channels, such as push in-app advertisements and email newsletters, you will be able to communicate with your players in a seamless manner. This is critical for distributing to the masses, providing them with the most recent information, notifying them about discounts and offers, assisting with retention, and improving conversion.
Based on the above, it is clear that marketing is one of the most important aspects of your company plan. A good marketing plan is required to launch an online casino.
Final Recommendations for Starting an Online Casino
When you've mastered the foundations of the online casino industry, here are some extra things to keep in mind:
Examine the competition. It is crucial to be aware of your main competitors, understand their marketing actions, determine what they do, and strive to outperform them. This will most likely assist you in implementing distinctive product features in order to stand out in the industry.
Establish a budget and stick to it. To start an online gambling business, work with a limited budget. If you spend too much money in the beginning, you will fail. If you meticulously account for the expenses related to launching a gambling business, your company will grow.
Don't go overboard with your website. Make your UI and UX user-friendly, clear, and simple to use. Don't go overboard with complicated and unnecessary features that will consume a lot of resources. An online casino should be appealing, fast, and accessible across all platforms.
Pay attention to your brand. Your brand should be recognizable and tailored to your target audience. Otherwise, it won't be differentiated from the crowd of mid-level rivals and fail to deliver the desired outcomes.
Prepare to confront challenges. This industry is vulnerable to criminal activity, cyber-attacks, unfavorable reviews, and other threats. To avoid or easily resolve issues, make sure you have an innovative and dependable security system in place, as well as excellent customer service.
How Much Does It Cost to Start an Online Gambling Business?
To start your own online casino, you must first determine your budget. If you haven't been around long enough to know all the expense items of this business, then let us shed some light on the key categories of cost that you should take into account when deciding on a budget:
| | |
| --- | --- |
| Type of Cost | Average Price |
| License | Fee: $34,000; maintenance: $5,600/month |
| Website | $2,700–$13,000 |
| Software | $100,000–$500,000 |
| Marketing | $700,000 annual fee |
| Total | $1.2–$2 million |
Purchasing a license. The cost of a license is determined by the location of your gambling business. You'll need to pay around $34,000 as a startup fee and then almost $5,600 every month for the first two years. That is a reasonably priced alternative. Apart from that, you must have a minimum of $120,000 on hand.
Developing a website. You'll need to pay anything from $2,700 to over $13,000 in order to have your own web platform developed as per your needs. It all depends on the software vendor, your budget, and the features you desire. Typically, online gambling sites should be able to resist heavy loads and accommodate a large number of visitors at the same time.
Gaming software development. As your company expands, you may need more resources, which may cost you more money. To create exceptional games, you will need to pay for a dedicated software development services package. Depending on the project, expenses often vary from $100,000 to $500,000.
Marketing and promoting an online casino. Every year, online casinos spend lots of money on marketing and promotion since it is the most important strategy for getting people to register and play on your online casino website. Marketing requires a minimum deposit of $700,000 as an annual fee in the first year of operation of your casino.
Based on the above, you may need between $1.2 million and $2 million in total expenditures in order to launch a new online casino. Of course, if your company's strategy is well-honed, you'll see results quickly. And the above tips will help you achieve this goal.
Conclusion
Starting any business is a tough endeavor, and launching an online casino is no exception. It requires thorough planning and will take you on a long journey – from paying to get a gambling license and doing market research to building and marketing a gambling site properly. Startups that are ready to join the gambling industry should consider aspects like online gambling licenses, payment systems, gaming software, market-specific advertising strategies, and many more. Despite fierce competition in the industry, there is a high need for professional gambling providers to meet market demands and offer white-label solutions.