How to Get a Gambling License?
Gambling is one of the world's fastest-growing and most profitable industries. Besides, the gambling industry is also the most steady in terms of investment – the number of players grows dramatically each year, as does the number of gaming venues. This implies that if you have a great offering, such as a gambling website, you can easily attract users and carve out a place in the worldwide market. And this is only possible if you get a gambling license.
Here, we will look at the legal side of things and talk about gambling licenses. Keep reading to learn about the available types, their application process, and the benefits of obtaining a license.
Why Does Your Business Need an Online Gaming License?
To run your online gaming business above the law, you must have an official license that is specific to your location, customers, and activities. Doing otherwise is against the law. Running an online gambling business without a license is a recipe for catastrophe in the long run. Online casino operators must have a gaming license that allows them to offer specific games and market to players in particular jurisdictions. They can then order SEO services to promote their site effectively and ensure a global customer reach.
Apart from that, there are some other reasons why you must get an online gambling license:
Work at the international level, in any country;
Market to gamblers across the globe in a legal manner;
Enjoy lucrative advertising deals;
Get some fiscal benefits, such as low tax rates or even zero tax in some offshore licensing jurisdictions;
Open a settlement account at a reliable financial institution within a range of jurisdictions;
Add a secure payment system to a website that lets you receive and send prize money in different currencies;
Acquire approved software from well-known global vendors;
Add your casino app to Google Play and the App Store;
Maintain trusting and open relationships with your target audience. Players will hardly be ready to deposit their money in a shady casino that lacks a license and thus cannot guarantee a trouble-free cash-out of prize money;
Enjoy the credibility and authenticity that come with a gambling license. Your potential customers will feel more inclined to choose you if your online gambling establishment is licensed and regulated;
If you run your business successfully, you will never be shut down, arrested, convicted, or punished for operating an unlawful internet gambling site.
In 99% of cases, operating without a license means breaking the law. This exposes you to prosecution and the possibility of being shut down. That's why it is in your best interests to operate lawfully and in accordance with applicable legislation. If you choose to run a business in a country with no regulatory standards, your operations and credibility may suffer.
However, meeting the license criteria, be they of the United Kingdom Gambling Commission or the Malta Gaming Authority, is only half the battle. You must guarantee that you remain compliant through good self-regulation. At the heart of your ethos should be ethics, responsible gaming, and a zero-tolerance attitude toward underage gambling. Once you've obtained your online gaming license, don't let anything slide.
It takes a lot of time, effort, and money to start a new company. If the license step is skipped, it jeopardizes not just your current business but also any future endeavors. Therefore, it is critical that you carefully assess which license jurisdiction is best for you and get expert guidance to ensure that it is an appropriate jurisdiction for your commercial, financial, and tax needs.
Types of Gambling Licenses
When you establish an online betting, casino, gambling, or eSports betting platform, you have a long list of items to check off. Choosing the correct jurisdiction and being licensed should be the most critical decisions you make. At this stage, you must carefully assess what you intend to achieve since this will influence where your firm should be headquartered. Accounting, reporting, privacy, tax, payment providers, settlement accounts, and who your gambling company may sell to should all also be considered.
Obtaining an online gambling license should be your first goal because it is a straight path into the industry. It is required to create bank and merchant accounts, engage with electronic payment system providers, and purchase certified gambling content. Not to mention that you'll need a license to market your casino better and build customer loyalty through the reputation of your business.
It's actually rather simple to obtain a license if you meet the requirements. Therefore, follow these procedures before applying for a gaming license:
Select countries that fit your current needs and requirements;
Investigate gaming jurisdictions' requirements, fees, taxation policies, and application processing times;
Consult with a lawyer to expedite your research;
Begin preparing personal paperwork ahead of time;
A copy of your passport, proof of address, a criminal background check, and a reference from your bank are all required;
Check that your casino software complies with jurisdictional regulations;
Make a list with a detailed description of the software's features and games, as well as any software provider agreements and an RNG certificate;
Check the online casino's website to see if it has the information your gaming law requires.
Gambling regulations, like all other country regulations, differ from one another. Some nations have severe gambling rules, forcing operators to seek out cheaper and less regulated areas. If you find yourself in a situation where launching a gaming business in your own country is simply too expensive and complex, you should consider offshore options.
Obtaining an online gaming license in another country might be easier and faster. However, before making a final decision, you should study all of the peculiarities of gaming jurisdictions. Here is a list of prominent offshore destinations for licensing your online casino.
| | | | |
| --- | --- | --- | --- |
| License | Operation | Cost | Application Process |
| Antigua and Barbuda | Antigua and Barbuda | $15,000 | Up to 30 days |
| Curacao | Curacao | €20,000 | Approx. 6 weeks |
| Malta | Malta | €10.000-€25,000 | About 4-6 months |
| Montenegro | Montenegro | €25.000 | Approx. 2-3 weeks |
| Isle of Man | Isle of Man | £35,000 | Up to 10-12 weeks |
| Panama | Panama | $40,000 | Up to 2 months |
| Gibraltar | Gibraltar | $30,000-$70,000 | About 3 to 6 months |
Antigua and Barbuda Gambling License
It might be highly expensive to set up a gambling service in this island country. The application fee for the Antigua and Barbuda gambling license is $15,000. And they charge a yearly gaming licensing commission of $100,000 for getting an interactive gambling license. The application procedure might take up to two months on average. There are two sorts of licenses available: one for interactive gaming firms, which include online casinos, and another for interactive wagering companies.
Thus, before you start an online casino, you are required to have a minimum deposit of $100,000. Also, like the health warnings on cigarette packs, Antigua and Barbuda requires casinos to have a banner on their websites that warns users about gambling addiction and points them to groups that can help them deal with their problems.
Curacao Gambling License
Curacao has the world's most cost-effective, fastest, and least bureaucratic licensing procedure, enabling entrepreneurs to reinvest all money back into the company thanks to a 0% tax rate and 0% VAT on all revenue from their remote gambling enterprises. The application price is around €20,000, with a monthly license support charge of €1,500. If your gaming operation is based in another country, you can apply for a special Ezone permission to take advantage of a 2% net corporate income tax rate and a 0% tax rate on gross bets. Curacao is an excellent alternative for companies that wish to launch an online casino as quickly as possible.
Curacao is one of the world's oldest online gaming jurisdictions. It is the best option for individuals who wish to go live quickly and without spending a lot of money on fees and applications. Furthermore, Curacao has a great reputation as a jurisdiction with high levels of trust, accountability, and monitoring. Having a Curacao license and following all necessary requirements can put you in good standing with other firms and industry partners. All this makes Curacao the perfect jurisdiction for startups.
Malta Gambling License
Malta is regarded as the gold standard for iGaming licenses. Operating in an EU jurisdiction, favorable tax benefits (as low as 5% through the full imputation system), the convenience of doing business with banks and payment providers, and, of course, the prestige that comes with Malta Gaming Authority certification are all advantages of a Maltese gambling license.
However, these advantages and the reputation that comes with them come at a cost. The MGA license is one of the most expensive ones available, and obtaining it is a time-consuming and complicated procedure. That's not to suggest it's not worthwhile to pursue. The gambling taxes in Malta vary based on the type of license you hold. Online casino-style games, in general, need a Class 1 license. In this situation, the gaming taxes are €4,660 per month for the first six months, rising to €7,000 per month after that. A Class 1 license requires a minimum share capital of E100,000.
The license application procedure is lengthy since it consists of five stages, including multiple compliance audits. You must submit your personal and financial details, as well as a business plan that includes a full analysis of your marketing strategy and growth ambitions.
Montenegro Gambling License
Since 2012, Montenegro has been granting gambling licenses for online casinos, sports betting, and poker games, among other things. They provide an "all-in-one" service package that includes all operating charges for starting and registering your business, obtaining a license, and accepting payments. The package charge is €25.000 the first year and €15.000 each year after that.
Another good thing about obtaining a Montenegro gambling license is that the application process is quick and simple. A new enterprise may be created in as little as two days, and there is almost no minimum capital needed to incorporate a limited liability company and obtain an online gaming license. Another benefit of the Montenegrin jurisdiction is the low company and personal tax rate of 9%.
Isle of Man Gambling License
The Isle of Man was one of the first in Europe to legalize online gambling in 2001. The local licensing process is well-respected, strict, and responsive, with a high level of professional ethics. An Isle of Man betting license entitles the licensee to advantageous tax rates. Corporate tax on gambling firms is fixed at 0%, and gaming taxes range from 1.5% to 0.1% of yield, not total turnover.
While it is one of the most costly locations for online gaming enterprises, the process is rather simple. There is just one license for all gambling and marketing operations, software, skill games, and other activities that may be hosted or carried out without further regulation. The complete gaming license is a single license for your gaming company, with an application cost of £5,000 and an annual fee of £35,000. The licensing procedure takes between 10 and 12 weeks. To get a gambling license, the company must be registered on the Isle of Man, and all casino servers must be housed there as well.
Panama Gambling License
If you want to run an online casino in Panama, you should know that the regulations enable operators to be free from all taxes, including income tax, sales tax, and VAT, as long as the money originates outside of Panama. Although offshore organizations are not subject to foreign exchange controls, operators must monitor game payments and ensure that all transaction records are accessible for examination by the government. Furthermore, all operators must follow international money laundering standards. A Panama license for internet gaming costs $40,000, plus a $20,000 yearly charge. The license is valid for seven years.
Gibraltar Gambling License
Gibraltar provides excellent conditions for establishing a successful legal casino operation. However, you should know that the Gibraltar Regulatory Authority (GRA) has severe requirements, making accreditation difficult for some companies. The licensing fee is between $30,000 and $70,000, depending on the type of gaming and the organization's structure. The Gibraltar license is valid for 5 years, with an annual renewal fee of roughly $2800.
The gaming license appears to be somewhat expensive, but the major advantage of this jurisdiction is that it is taxed. The gambling industry pays a 1% tax on its profits. Furthermore, tax cannot be more than £425,000 or less than £85,000 each year. This tax is extremely lucrative and nearly negligible for large corporations with bigger revenues.
How to Choose a Gambling License for Your Online Business?
If you intend to incorporate a gambling company in an offshore country, make sure you choose a proper jurisdiction. As you have seen, there are plenty to pick from, and on the surface, each has advantages and disadvantages. However, because each business and concept is unique, determining which is the best fit for you may be a challenge. However, because each business and concept is unique, determining which is the best fit for you may be a challenge. Here are some key things to consider. You may choose the best jurisdiction for your online gambling company by addressing each point with your corporate services provider.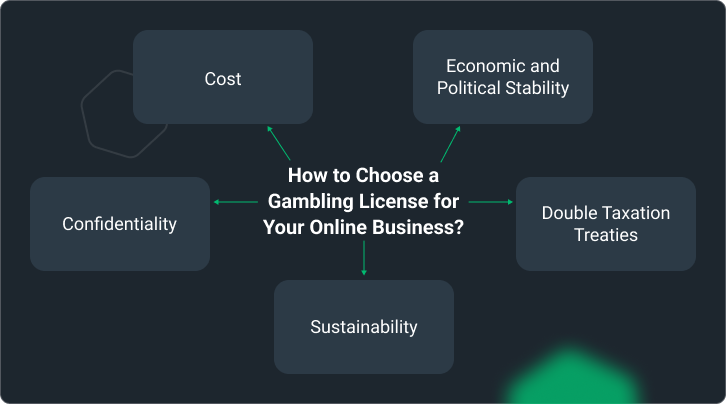 #1 – Cost
One of the most important things to consider is how much it will cost you to operate in a particular jurisdiction. Make a decision based on your budget and how much you are willing to pay for a license, setup, incorporation, operations, and continuing upkeep. Once you do all the calculations, you can choose jurisdictions that fit within your budget and provide you with the freedom you require.
#2 – Economic and Political Stability
It is never a good idea to select a low-cost gaming jurisdiction if the country is on the verge of war or economic catastrophe. Similarly, an uncertain political environment may result in significant changes to national gaming policy. We strongly recommend that you give preference to countries that are stable economically, politically, and socially. This stability comes with the extra benefit of not having to worry about things like currency exchange levels, profit remittance, or negotiating conditions with third-party contractors.
#3 – Double Taxation Treaties
Another key factor to keep an eye on is the number of double taxation treaties that a jurisdiction has concluded with other jurisdictions. You don't want to set up your business and go live just to discover that you're paying taxes in two different jurisdictions. Some of the advantages of offshore businesses include not having to pay taxes on corporate profits or gaming revenue, but only if specific treaties are in place.
#4 – Confidentiality
Various licensing jurisdictions have different standards for secrecy, information exchange, and ultimately beneficial owners' personal information. Depending on your unique situation, you need to figure out how much privacy you need and then choose the country that can give it to you.
#5 – Sustainability
Not every jurisdiction is appropriate for every type of company. While some provide gaming licenses, they may lack a solid strategy, proper privacy standards, or even appropriate asset management frameworks. Others that appear to check all the corporate boxes may not be suitable for online gambling. Therefore, before making a final decision, consider capital needs, filing duties, disclosure requirements, audits, tax exemptions, incorporation timelines, rules, compliance, and other factors.
Conclusion
Obtaining an online license might be difficult if you are unfamiliar with how specific countries operate. It is critical to plan ahead of time and have all of your documents ready before applying. Remember that your software, money, and reputation will all be scrutinized. So make sure everything is in order and know how to get a gambling license. It's better to be prepared than to waste time gathering paperwork and selecting jurisdictions.
When it comes to gambling legislation, each country is unique. Therefore, your objective should be to select a state that suits your personal requirements. Choosing a country with flexible gaming laws may be advantageous since you will likely save time and money on license processing and maintenance.